ARCHIVES NATIONALES / MICHEL JOURNIAC / OEDIPUS REX / YIA HORS LES MURS
from Wednesday 22 October 2014 to Monday 3 November 2014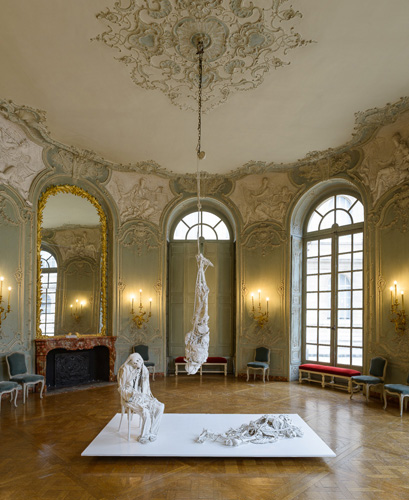 "Oedipus Rex" est incontestablement une oeuvre universelle puisqu'il y est question de la "famille" vu par le biais du complexe d'Oedipe. Réalisée en 1984, "Oedipus Rex" est composée de trois squelettes.
Cette oeuvre représente l'artiste accompagné de ses deux parents (sujet fréquemment traité par l'artiste, notamment avec l'incontournable "Hommage à Freud"). Le père est assis sur une chaise, la mère est couchée au sol, le fils est pendu par les pieds.
"Oedipus Rex" is definitely a universal work because it deals with the "family" having regard to the Oedipus complex. Created in 1984, "Oedipus Rex" is composed of three skeletons. This work represents the artist accompanied by both parents (subject frequently treated by the artist, including the inevitable "Hommage à Freud"). The father is sitting on a chair, the mother is lying on the ground, the son is hung upside down.